January 26, 2011
8:26 AM |
Posted by Meg
Miss Mendi and I had a great time in Dallas last week. Here's the scoop. I'm not going to post a bunch of the products I saw at market only because they aren't as exciting as the things I found at
Again and Again
. Except I love this little bucket. This was our fave. It's like a total Gucci/Hermes knock off, something super chic to house toys, trash, logs, whatever.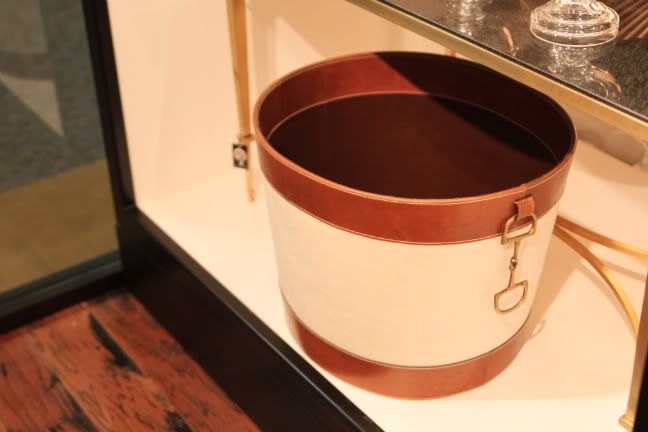 Oh one side note, if you're in the big D...eat dinner at
Park
, (the chic bar in the back had live jazz when we were there) and have a meat ball sub at
Jimmy's
. Both recommendations from the owner of Again and Again, sweet Leslie Pritchard. We tested both and loved them!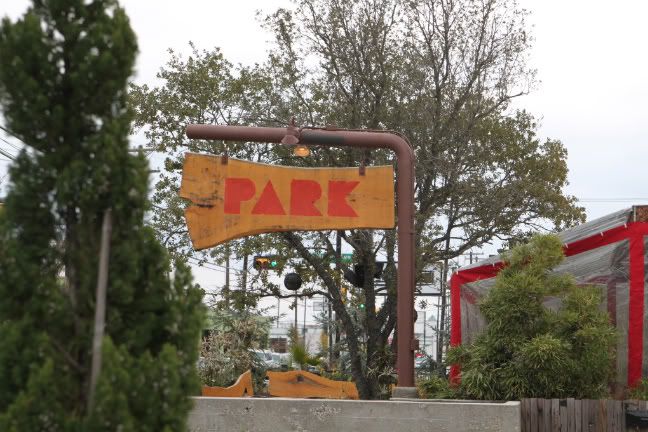 Again and Again has three locations. We went to them twice in the two days we were there. I was obsessed.
Sweet Emily of Material Girls
gave me the heads up on Again, thank you Emily!! Anyway, Leslie has some awesome, awesome things, for great prices. I would be in serious trouble if there was a Houston location. She's working on getting some of her pieces online, I'll let you know when she has it up and running because I know her site will be better than ebay.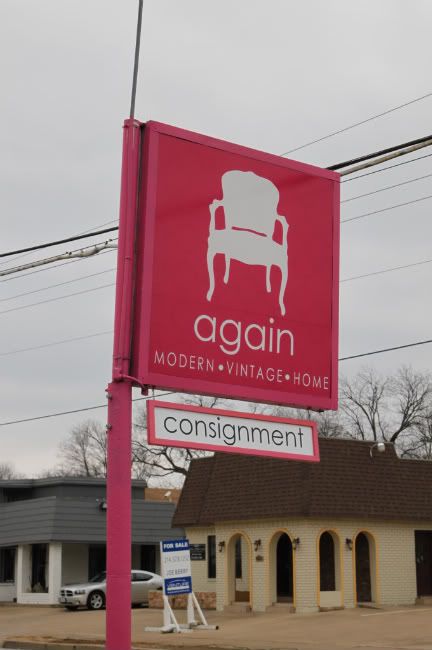 You have to have an imagination with her things, some need some sprucing, some are off-the-wall, just the way I like it, she has that unexpected thing every home needs. Her look is the total mix, high/low, midcentury/antique, painted/not painted etc. She told me she loves to 'save furniture'. I just melted over that. I like to save furniture too.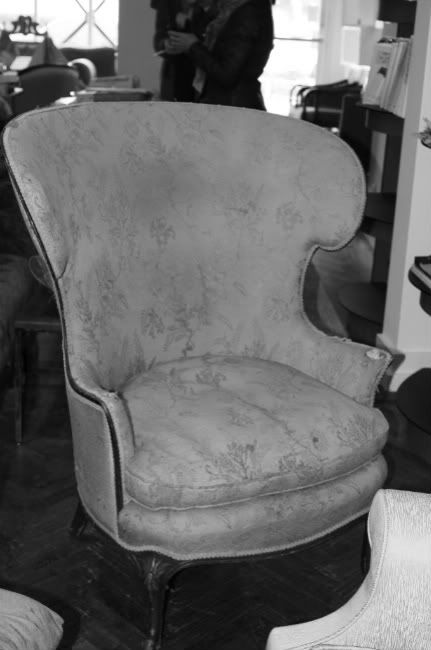 This guy came home with me in the back of my car. So did an old beat up awesome Persian rug, I'll post a photo of that once it's been cleaned, it's too dirty to even put on my floor right now! Back to this chair, what do you think? I'm over-the-moon, in love with it. At first I thought I'd put it in my booth at
Urban Market
(which is Feb 13 by the way, mark your calendars). Now I'm not sure I can part with the original and might have my upholster make a re-production to sell. I'm thinking I want to keep it for my bedroom and re-upholster it in either an old worn looking tobacco leather, OR a dark blue velvet or mohair. The lines are crazy wild, and most importantly, original. This chair came out of a Chicago estate, the original owner's son sold it to Leslie, it has the original upholstery tag on the seat...it's old, 1890's - 1910's old. And the scale is phenomenal. I should have taken a picture of me sitting in it, that back is HUGE. Scale is so important. I've seen some chairs remade like this, in similar fashion, but the scale of the wings are all off compared to the depth/legs/arms etc. This one is just right. What should I do? Take it to
Urban Market
or not? Eek.. help! One more note about this chair, one of my most favorite things about it, is that exposed wooden curved frame along the back. Do you know how hard that is to make? Making a repro will not be cheap. Ok..enough about my obsession with this crazy chair.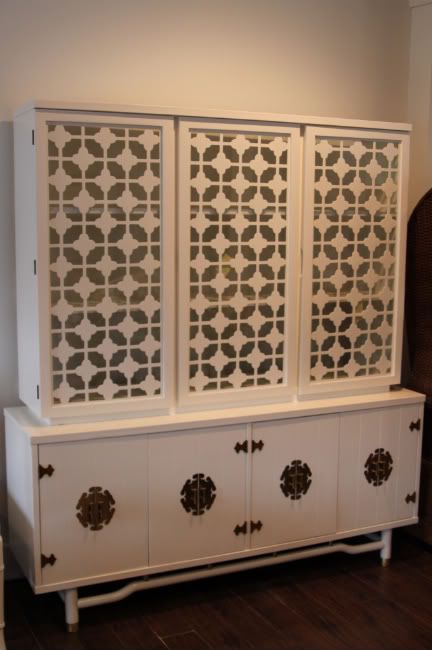 Pretty spectacular hardware.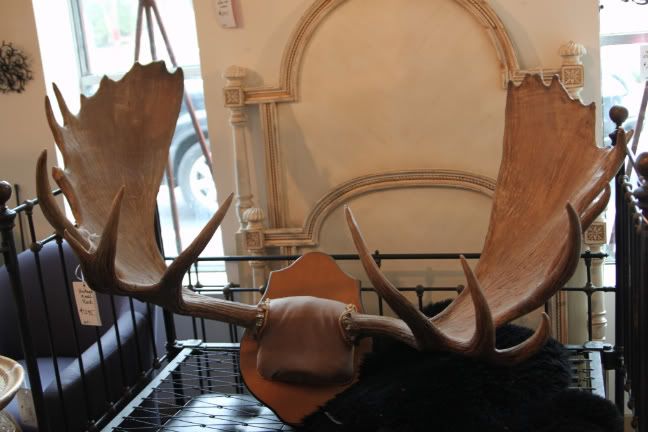 Moose antlers? REAL moose antlers? YES! These are so bad ass. I have Elk antlers going in my
Urban Market
booth that are pretty bad ass too.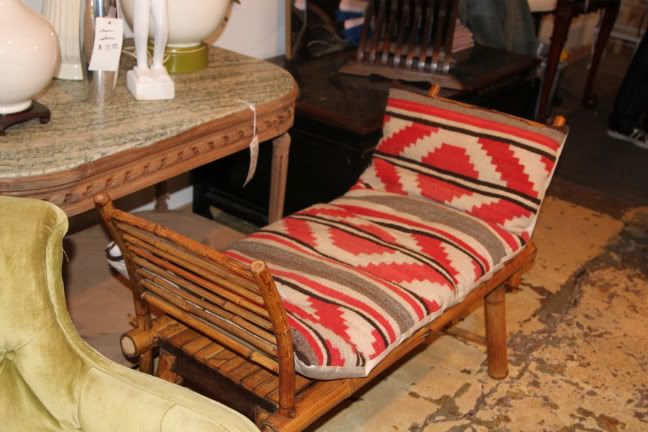 Navajo is IN right now. I think it's becoming the new ikat. I loved this bench. I have a sweet little preppy looking Navajo rug for my booth too.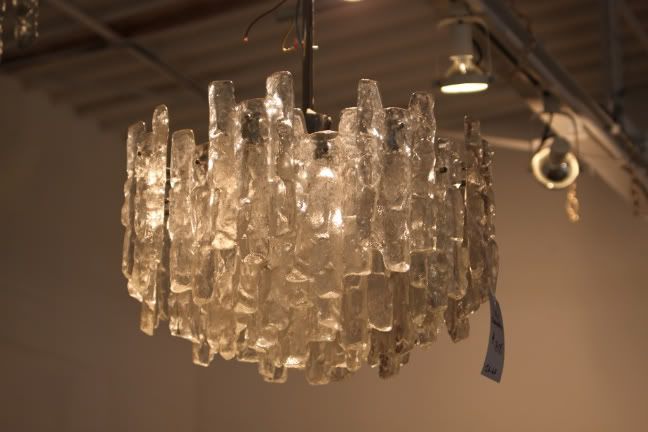 Ice ice baby chandeliers from France. So chic.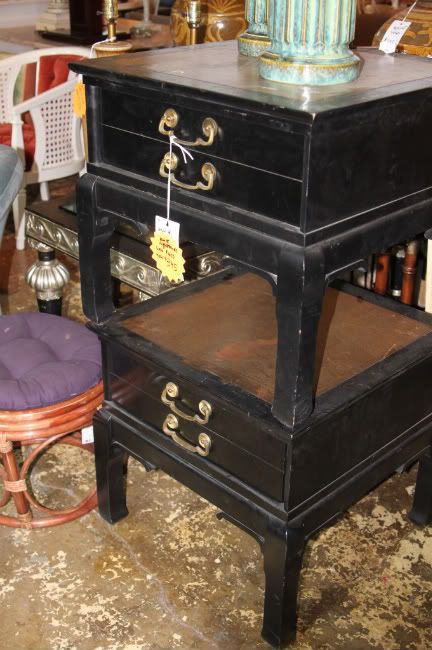 Great little side tables, they need a little TLC but that is easy!
Prettiest little lucite chair, PERFECT vanity chair, with a custom cushion and new brass casters.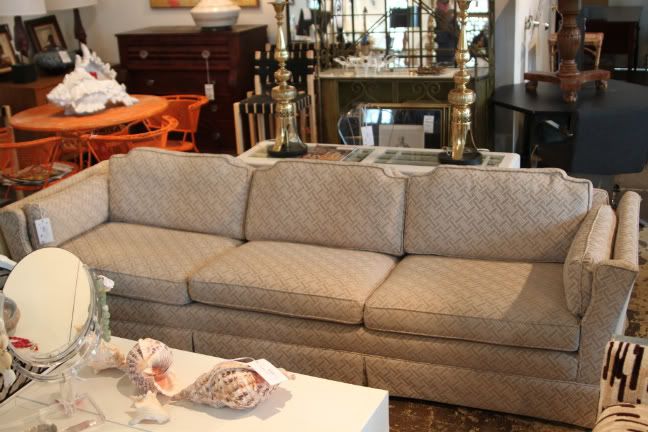 The lines on this sofa. Holy moley. Look carelfully at the back cushions and arms. And the scale of this sofa. It was like 10 feet long. Leslie wants to upholster this in coral velvet. I'd probably drop the skirt and make exposed legs, but can you imagine? Miss Mendi and I sat here with her and chatted furniture, saving furniture, blogs, stores, style, Dallas, Houston, interior design, for TWO HOURS. She's so sweet!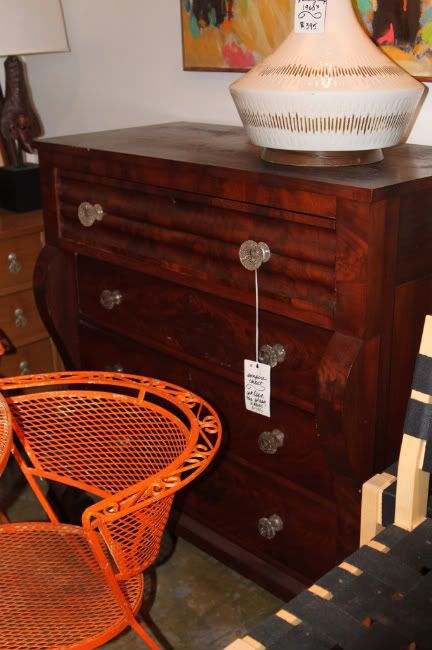 I loved this classic Empire chest mixed with all of the other fun stuff. All about that mix. This piece would last for-evah, never out of style.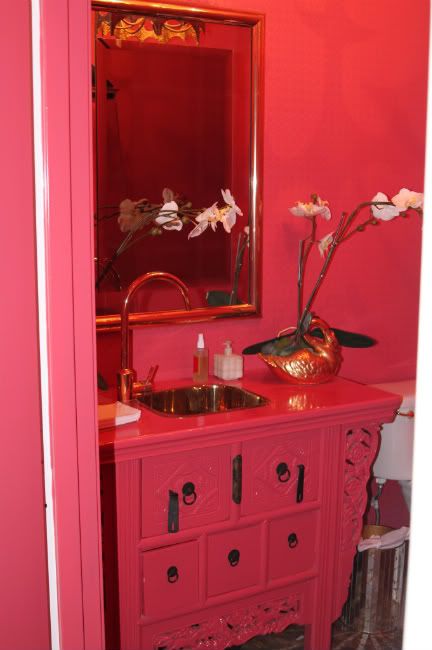 After chatting for two hours, Miss Mendi asked to use the ladies. We heard her squeal once she turned the light on. SURPRISE. A hot pink bathroom with brass fixtures. Totally gutsy, amazing. It's actually wallpapered. Even better.
I could think of a million ways to use that pair of mirrors. So gorgeous. I like pairs of things.
Ok.
Check out Leslie's site
. You can call her and buy any of this stuff, if it's still available, I think she moves things fast because her prices are so great. I was obsessed. I am obsessed! Thanks for the fun afternoon and all the tips Leslie!!! I love my chair and rug and I hope to find some more treasures and save some more furniture for my clients from you soon ;)
Blog Archive