June 8, 2011
10:19 AM |
Posted by Meg
First thing's first. In order to understand some of the information in this post you need to understand the geography of New Zealand. I have highlighted in RED the places we frequently visit, have lived and are mentioned below. It's important to get a lay of the land.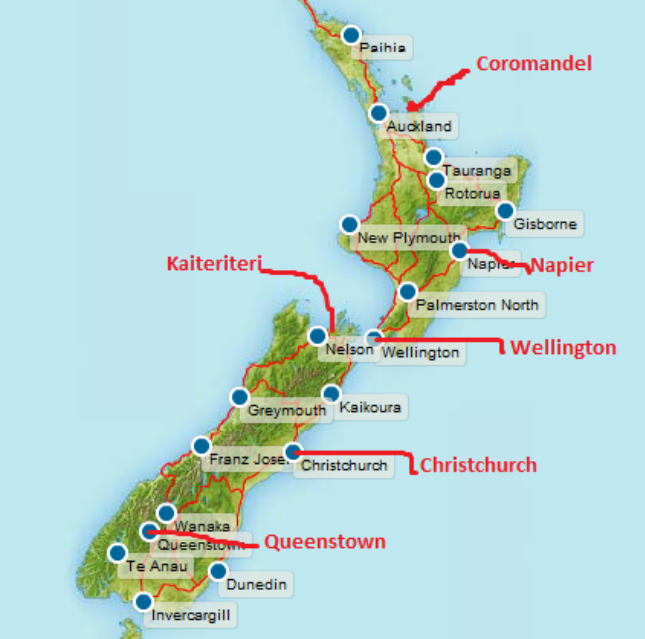 I have had these images scanned since I returned back from New Zealand in
(gasp)
March, and am just now finally showing them to you all. When we were there my mother-in-law called me from Wellington
(Tim is from Wellington, but at the time we were up north,
remember
?)
and said, "Have you picked up this month's
New Zealand Home and Garden
yet? And have you seen who's on the cover?". We were in the car driving down to Napier and I made Tim pull over to the first BP station we could find. Low and behold, there was Colin's bach right on the cover.
I worked for Colin Foggo at Belle Interiors when we lived in Christchurch. He totally gave me a chance and hired me when I had no design experience and I was very young. I remember when he asked how old I was I replied, "23 - almost 24", haha, that makes me laugh thinking about it. I was bright eyed and very eager to learn anything and everything Colin had to teach me. I can remember he'd give me lessons some slow afternoons about the durability of various fabrics. Explaining the difference between an 'ottoman weave' and a 'jacquard'. These important things designers need to know on a daily basis that aren't really taught in school. During the time I worked for him, Colin was building this 'bach' (pronounced 'batch'). A
typical Kiwi bach
is usually a small house that you build yourself on land you don't own, near a beach. Often times, as in the case of my sister-in-laws family's bach, there is no running water or electricity and a
'long drop'
. New Zealanders spend their all of their holidays at their bachs. But Colin's "bach" is not your average bach.
Check out this video of the inside!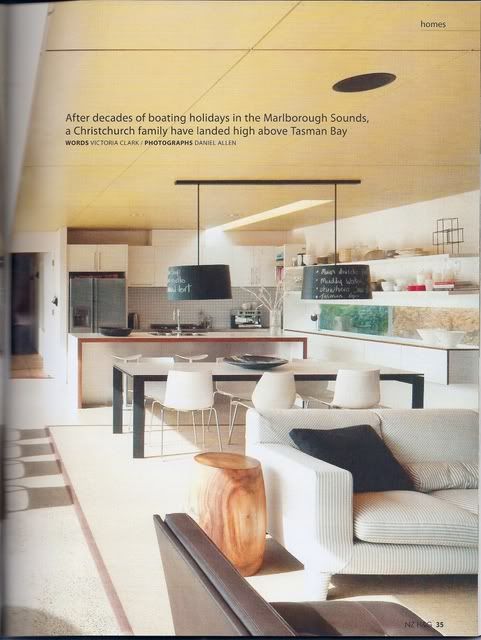 The location of this bach, near Nelson in Kaiteriteri has been '
the
beach' that most of the people from Christchurch vacation at during the summer. Tim and I went there for
Waitangi Day
one year and
camped out
! It was one of our best trips ever! It's very isolated, most people spend their time there hiking in the Abel Tasman National Park, kayaking, and of course boating. I remember seeing people grill fresh scallops they caught that afternoon at our campsite!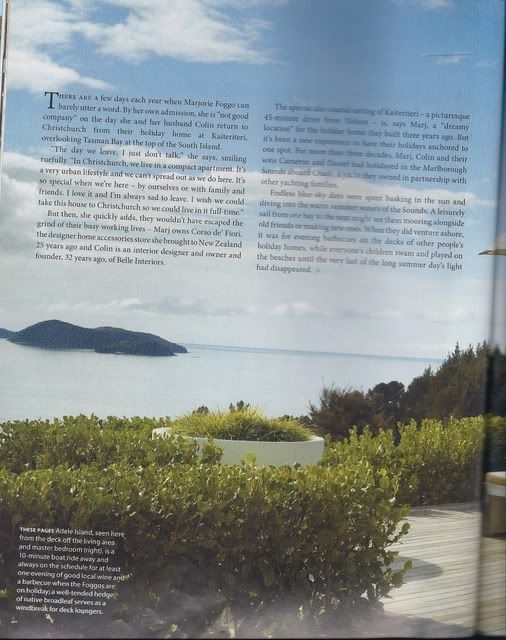 Along the front of the house, overlooking the ocean, there are 11 meters (that is roughly 33 ft) of sliding glass doors that open all the way up and hide back into a wall, opening up the entire kitchen, dining and living room to the outside. Pretty brilliant. Did you check out that ceiling? It totally warms up the modern architecture.
All of this furniture Colin designs and manufactures himself through
Belle Interiors
(with the exception of that great striped B&B Italia sofa). Cameron, Colin's son (pictured above) is an artist and designed that black cabinet and drew that piece of art to the right of it. That coffee table and the side tables are from Bali because I remember when that awesome shipment of furniture came in.
I adore that Serralunga pot on Colin's deck. Colin and his wife Marj used it as a massive ice bucket their first New Years Eve at the house. Isn't that great? Remember New Years is the height of summer in New Zealand!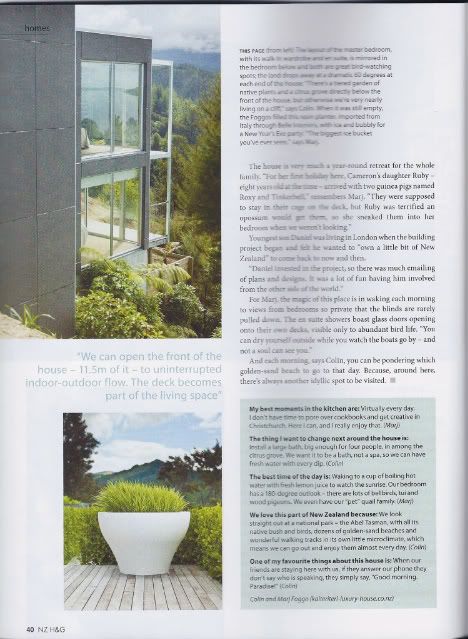 I was just so glad to see Colin's amazing bach published after working along side him and witnessing his design process through that project. Colin is completely self taught and self trained and has successfully run a serious design studio for over 30 years, which is something I admire so much. His impeccable style and his successful business has taught me a very important lesson. Personal style, good taste and an eye for design are things that can't be taught or learned in a classroom. It's that part of design that the greats can 'see' and 'understand' instinctively. I never worked a day with Colin when he wasn't dressed in an Armani suit jacket (even on Saturdays, he stuck a (presumably) Prada t-shirt underneath!)
Colin was constantly teaching me how to have confidence when working with clients, leading them down the design path, which for us in the business seem to automatically 'get' but the hard part is convincing and relaying those intuitions to our clients. I wish I could pop over to New Zealand for monthly mentoring sessions with you Colin! Last May when I was in New Zealand I popped over to Belle on a Friday evening and we had wine and cheese in the gorgeous showroom, it was so fun catching up. I can't wait to see what Colin does with the new space they will be moving in (they were affected by the Christchurch earthquake TWICE) and I'll see you on my next trip down!
Ps. You can rent The Foggo's bach here. Do it! Plan an unforgettable New Zealand holiday!
Pps. For some reason I've been very homesick for beautiful scenery lately. The two places I lived before Houston were Boulder, Colorado and New Zealand. I know, I'm one lucky girl. As Houston is pushing 100 degrees already this summer I can't help but wish I was back in Boulder or NZ taking in the nature!
Blog Archive