August 13, 2012
8:49 AM |
Posted by Meg
These are some of the things that have made the last 7 months a lot easier.
Bugaboo Bee. We have the taupe canopy. But in London at Liberty, they had a special edition one that I would have loved to have seen before we got the taupe! (if you follow me on instagram you would have seen a photo of this) This stroller was everywhere in London, it's tiny, lightweight, super easy. We have the cocoon (which we use in the bassinet on international flights that works like a charm), the rain cover, cup holder and Tim can't wait to get the little skateboard for Julian whenever #2 shows up!
Como Tomo Bottles. People always see them and say, 'What a neat bottle!'. I never paid any attention to bottles before, and certainly never commented on them when I saw them. But this one is kinda designey, has an appealing look, and Julian took it from the first day we gave it to him. Highly highly recommended.
.
Aden + Anais for Serena & Lily. I love these so much. I used them as covers for breastfeeding, used them as covers over the stroller when Julian was sleeping when we were out. Used them as light weight blankets. Used them 24/7.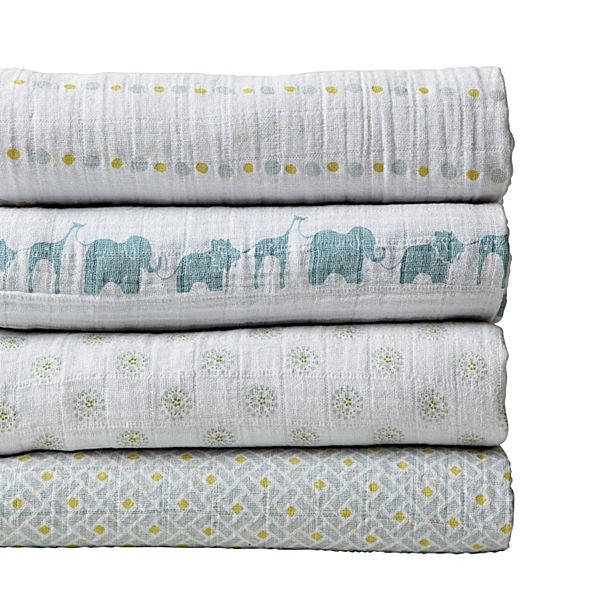 jellycat frog. This little guy is Julian's 'lovey' and is the funniest looking, cutest little guy ever. He has the little puppy at my mom's house. Their bodies 5'' tall so they are perfectly pint sized for babies. He also has the big alligator which he loves too. First child = so spoiled.
Bonpoint Burp Cloths - I ordred these over the phone from New York from my hospital bed. Little did I know Julian was going to have reflux and be a thrower-upper...for 6 months non-stop. These 7 little cloths were by my side all.the.time. They wash wonderfully and are sweet. I don't know about y'all but I get sick of all of those baby patterns on everything.
Here are a bunch of other things we've used and loved:
Carseat
Sophie
Sleepsacks
Spoons
Babyfood storage
Bib
Pump (I breastfed for 6 months, and on/during international trips...and never in public, thanks to this!)
Babysoap & this awesome shampoo
Face wipes (I think wipes are so gross, but these smell so nice!)
Bee Toy (saved us on flights first 5 months!)
Bob
Angel Dear & KissyKissy clothes/gowns
Diaper bag
And. Most importantly. 10 weeks in we hired Vivian, our savior. She's an infant sleep coach. Julian didn't sleep much in the day before 10 weeks, and I was completely freaked out about taking him to New Zealand when he was 12 weeks old. So we hired Vivian, he was sleeping through the night and napping well in the day after 4 days of working with her. And has been ever since. Worth every single penny. Her rules: no paci, no sound machine, no nothing, just a lovey and a sleep sack, crib bumpers and parents who follow through. And it all works. Don't buy all that stuff, just call Vivian and she will help you. Honestly, when Julian goes to bed at 6:30 every night, it's the best thing ever, Tim and I get our time together, we can work/relax/make dinner and everyone is rested and happy over here. Hope this helps if you're having a baby or know someone who is...next up, back to design!
Blog Archive