August 10, 2012
3:33 PM |
Posted by Meg
Welcome to Julian's room. Let's start from the beginning. Remember this post? I had no idea what I was having, so I kept it sort of 'gender neutral'. But I wanted to experiment and didn't want to go with the obvious white/gray/green. So I went with navy walls. I had these walls painted 3 times before I felt like the right navy was achieved. In the end it was Farrow & Ball's Black Blue. I knew this was the color from the start but was so frightened by the 'black' of it, that I couldn't just pull the trigger. Lesson, trust your instincts. Don't be afraid. Take a risk. I finally did (and several hundred dollars worth of painters bills later), it's so dark and cozy. I love it, and so does Tim, and I'm pretty sure Julian does too when he sleeps 12 hrs a night! We have french doors in here, so in the day despite the dark walls it's really bright and sunny. Also, believe it or not, the dark walls really make this tiny room feel much bigger.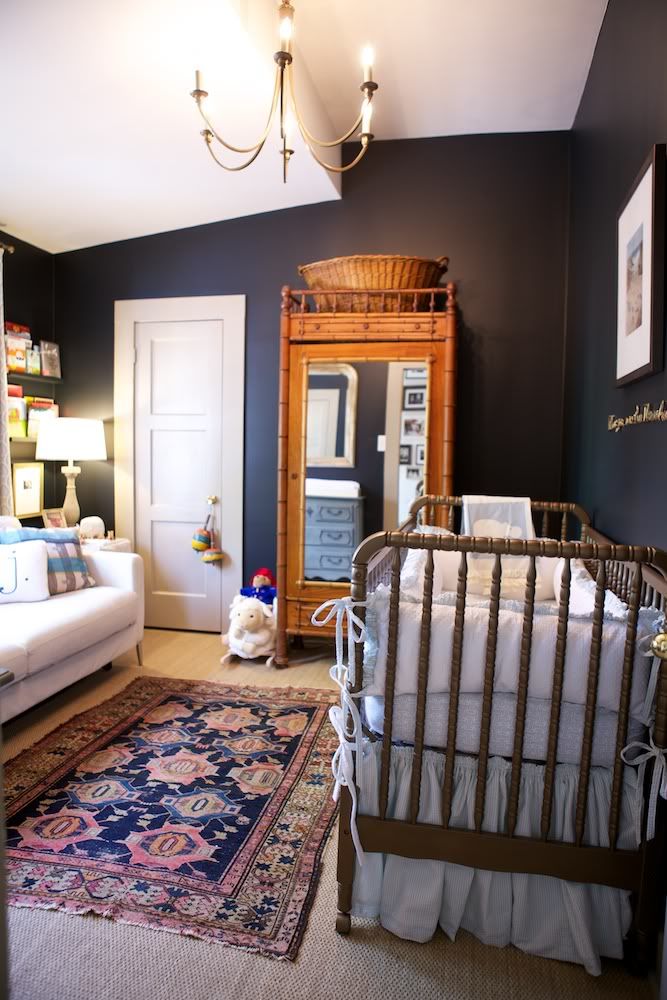 Let's talk about the art. When I was about 10 wks pregnant I was at Laura Rathe Gallery shopping for a job. I came across this sculpture and completely fell head over heels in love. A few weeks later I was explaining all of the art in our house to the writer for my BHG article. Each piece signifies an important event in our life, engagement, wedding etc. So then I realized, we had to have this piece of art in our house celebrating our baby. It's by Tara Conley, she has others...and can commission any sentence you want. The photograph above it was a gift I gave Tim for an anniversary. We didn't have a specific spot for in our house, and it seemed perfect in Julian's room. It's Christian Chaize, and I think I got it off of 20x200.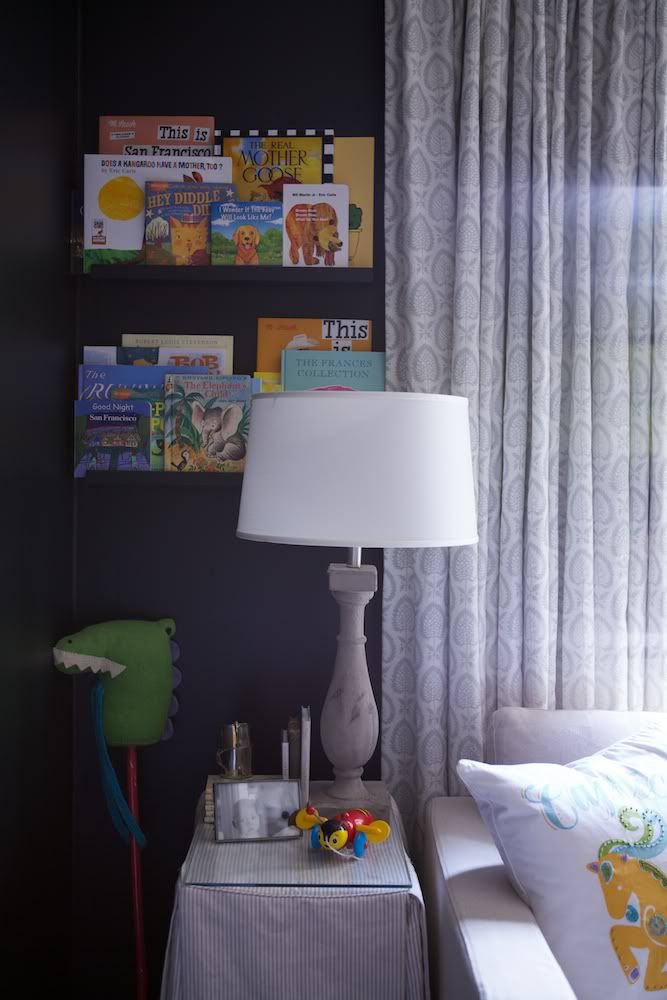 Some other notes, the side tables on either side of the sofa are actually file cabinets that I had table skirts/glass tops made for. We have such little storage in our 100+ year old house, so I was trying to maximize every inch. The crib skirt is the sweetest seersucker you've ever seen. The bumpers and coverlet are this white diamond matelasse (and trim is seersucker ruffle). Sheets are Serena &; Lily. The bedding is all custom, and I plan on using it for all my future babies since it's aqua and white. The armoire and changing table/chest of drawers hold all of Julians clothes. The bamboo piece is an antique and I had the front glass replaced with mirror to a. hide mess and b. reflect light. Changing table was a piece I had in my storage (same with lamps/chandelier). The mirror above the changing table is a Louis Phillipe re-pro that I had made.The books are on Ikea picture ledges that are painted the wall color. Rug is an antique Persian. Let me know if you have any questions about where anything else came from. Over all I love his room because it's not too 'baby', and later on a little girl could quite happily live in here too!
Photography: Kate LeSueur
Blog Archive